thanks⋅giv⋅ing [thangks-giv-ing]
1. the act of giving thanks; grateful acknowledgment of benefits or favors.
2. an expression of thanks, esp. to God.
3. a public celebration in acknowledgment of divine favor or kindness.
Thanksgiving is probably my favorite holiday. There's no hussle to buy things for others and worry if they're going to like their gift or not. It's a time to be thankful for the harvest but also to be thankful for the ways in which we all are blessed. As you all are traveling today to your destination for that turkey, ham, stuffing, etc. Or preparing to shop til you drop during those black friday sales, I hope you will spare a few minutes to think of a few things you're thankful for.
I thought I'd make a list of a few things that I am thankful for:
1-God
2-My parents & grandparents
3-My baby girl & her Daddy
4-My brother & his family
5-Cousins & Friends
6-Food
7-Good Health
8-Meredith College
9-To be able to do what I love (photography)
10-My clients
11-A life that includes love and laughter
12-Our soldiers
I really could keep going, but I think I'll stop there for now. What are you most thankful for this season?
And in the spirit of the Thanksgiving season, which I still like to have decorated with fall leaves, pumpkins, etc., here's another picture of my wee-one that I took earlier in the month!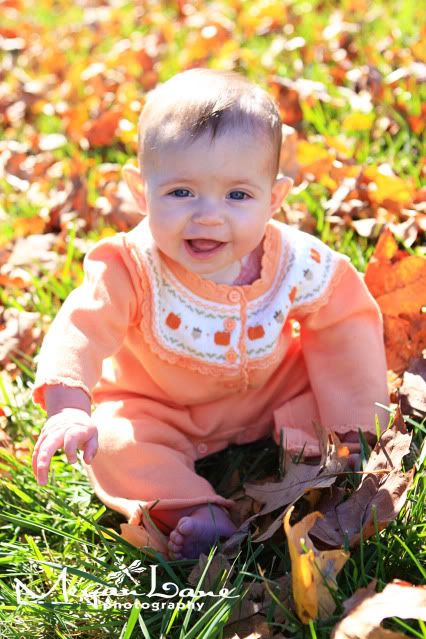 Here's to a safe, relaxing, and fun Thanksgiving!
Gobble, Gooble!
Megan