When I was a child, summer where I lived was so much fun. It meant not only getting to play in the water but also friends who had vacation homes in the area would be coming just about every weekend to visit! Stephanie was one of those friends. Her sister Nichole and I were best buds and I spent many a day with their family. Now we've all grown up and it was Stephanie's turn to get married.
Stephanie ... Bryan met in 1997 while working at the same place and they became fast friends. From what I understand, they both had a crush on each other but never spoke of it and remained friends for several years. In 1999, Stephanie lived on campus at VWC, and didn't get a chance to see many non-college friends. However, that thanksgiving weekend she happened into Kelly's in Greenbrier area and ran into Bryan. Even though they hadn't seen each other in monthes they quickly began joking with one another, which turned into flirting and Steph daring him to meet her and her friends out the next night. They started dating that weekend and dated until 2001.
They broke up in the summer of 2001 and never expected to reunite. Both went their separate ways and had different lives with out one another's presence. However, in the fall of 2002, Bryan showed up at a Halloween party that Steph was at and they sat and talked for hours about what happened since their departure from one another. They were able to rekindle their friendship which slowly turned romantic again.
Since then they have walked each other thru some of lifes many trials and tribulations. They both moved out of state and learned that against all odds as long as they had each other they could survive anything. Steph and Bryan have been thru countless job losses, career successes, and the heartache of losing loved ones and learned that sometimes when that pain felt unbearable they could turn to one another to get thru it together. They have been blessed to witness the births of nieces and newphews - and share in the joy of watching them grow up and how happy the little ones make their brothers and sisters.
Steph ... Bryan have shared so much together. It was a long road to reach this point of their wedding day, but their road has really just begun. They certainly know that whenever they may reach a fork in that road, they will grasp each others hand and decide which path to take. TOGETHER.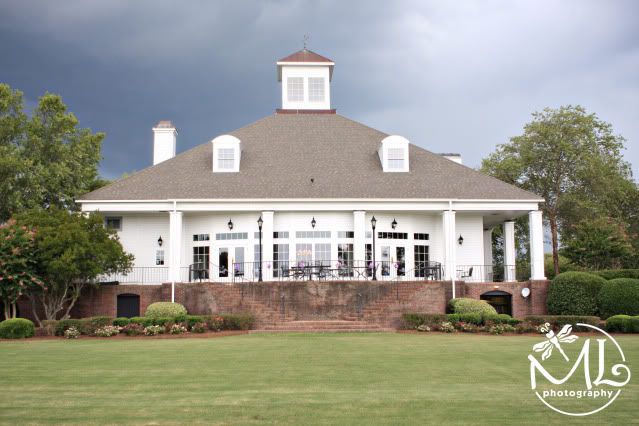 The ceremony and reception was held at
Albemarle Plantation
in Hertford, NC. Although they had planned to get married outside in the grassy area seen above, which sits on the Albemarle Sound, the heat and thunderstorms had a different plan. Steph ... Bryan chose Albemarle Plantation as their venue because it represented them. Steph grew up going to the Albemarle Sound and Bryan is an avid golfer. It was the perfect mixture of the two of them, plus is such a beautiful place.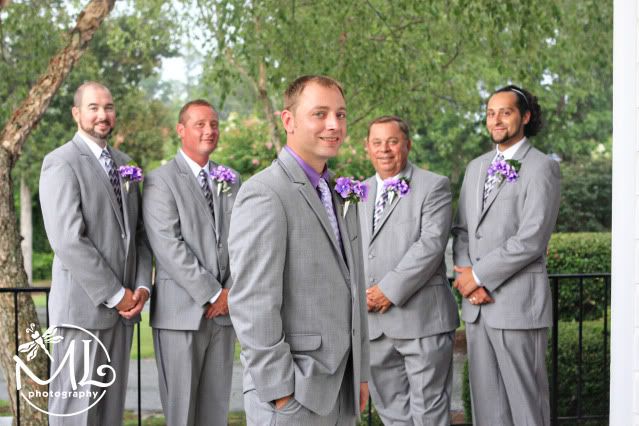 Who Wants Cake
in Elizabeth City, NC did their fantastic cake. Steph told me they wanted something simple but elegant with clean lines and little decorations but that would taste great. I think their wedding cake has been one of my favorites yet. I loved the bow and the broach! It was beautiful! And it was very tasty!
Stephanie decided to do her own flowers. She enjoys floral design, and knew just how she wanted things to look. She chose to use silks because she could work on them for a good deal of time prior to the wedding. Their flowers were purple hydrangeas, light pink roses and light green tulips.
Mr. David escorting his daughter down the aisle...
And they're hitched...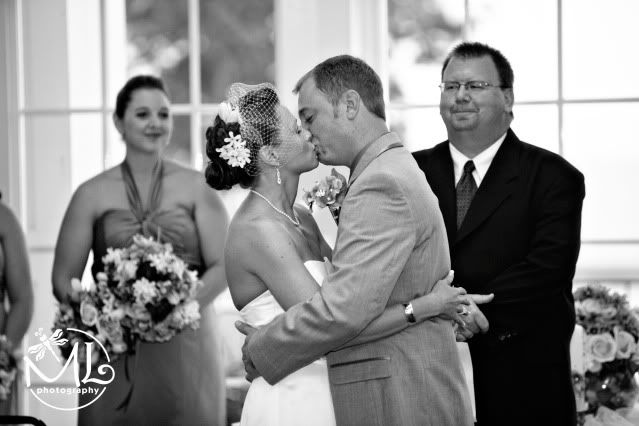 Although we really wanted to get some wedding party shots with the Albemarle Sound in the background we were unable to do so because of the rain. I actually shot the following image while standing under an umbrella and its one of my favorites from the day!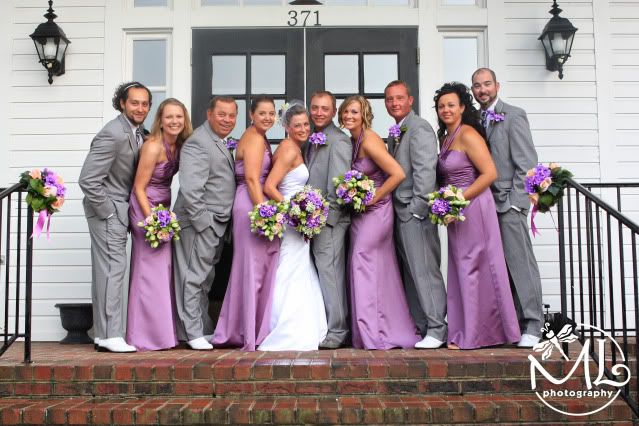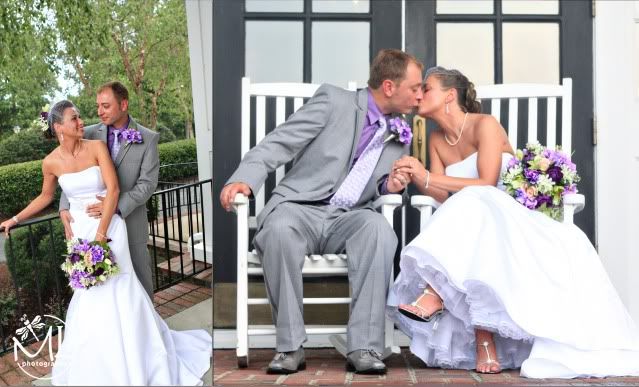 Steph & Bryan danced to Dig by Incubus as their first dance.
There was some sadness to the day because Steph's mom wasn't with us. I had the pleasure of knowing Mrs. Brenda and she was an amazing, strong woman! Things representing Mrs. Brenda were shown throughout the day. After the first dance, father-daughter dance, and the mother-son dance, Stephanie asked her and Bryan's siblings out on the dance floor for a 'yellow rose' dance. The yellow rose was Mrs. Brenda's favorite flower and they all danced to Forever Young by Rod Stewart, Mrs. Brenda's favorite song. Her mom and her brother brother danced to that song at his wedding. If you listen to the words to the song, it is a message to a child from a parent. It also has duel meaning to Stephanie and her sibilings because their mom passed so young. There was also a yellow rose placed on the table with the unity candle and Mrs. Brenda's veil from her wedding day overlayed the table cloth on that table as well. I know her Mom was looking down and smiling.
Table markers represented the years Stephanie ... Bryan dated. The kids table was "1999-2001" to represent first time they dated then every other table was one number (ie 2002, 2003, 2004 etc.) to represent the years since. The fish in the pieces represented their love of the water and they're both water zodiac signs.
Their neices and nephews had a ball at the reception! They are some precious kiddos!
And some more random reception shots...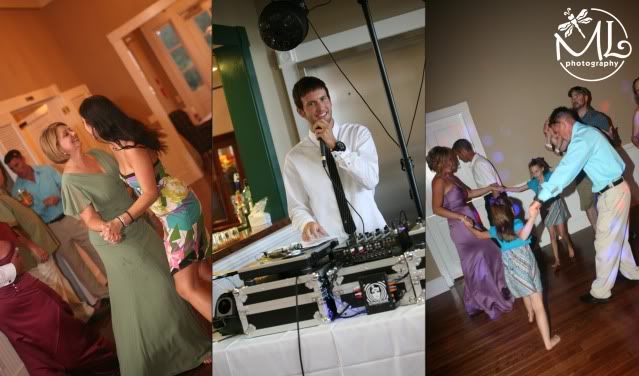 A toast to the newlyweds!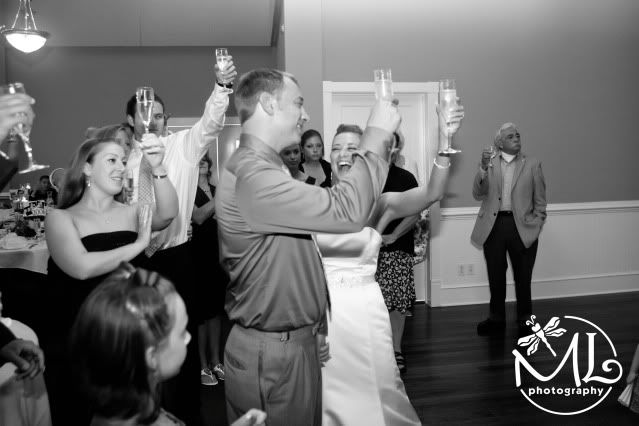 Stephanie ... Bryan thank you so much for letting me be a part of your wedding day! (And for getting me to put down my camera and dance!) Congrats! XOXO