Today I'm celebrating my daughter's second birthday with family and friends. Her actual birthday isn't until tomorrow but today's the day we chose to celebrate.
Today, I'm also thinking about my alma mater, Meredith College. This week they have been celebrating commencement week and celebrating the Class of 2011. Meredith College was an amazing place to go to college. One of the best things about Meredith aside from class size and beautiful campus, were its many traditions. On the Saturday of commencement weekend. Sophomores honor their senior "big sisters", and the seniors highlight their College years in an event called "Class Day".
The little sisters spend the morning constructing two 75–100 foot daisy chains to be used for the afternoon's Class Day exercises in the beautiful amphitheater. The white-clad sophomores hold two daisy chains and sing as their sister class marches through the chains. Class historians recall and depict key events of the graduating class' four years at Meredith. The sophomore and alumnae sister classes sing traditional songs to the seniors. The members of the odd year classes wear black gloves on their left hands and give their little sisters wish bone charms for luck. The even classes give their little sisters bags of sticks and stones "to protect them from the Odd Spirit's bones."
At the conclusion of Class Day, the sophmores and the chains form the class numerals of the graduating class. The seniors then go onto the island, form a circle around the numerals, and celebrate with their classmates.
I was cleaning out a chest this week and found this photo of me and my family from my Class Day. I had to scan it in because I wasn't digital back then. :)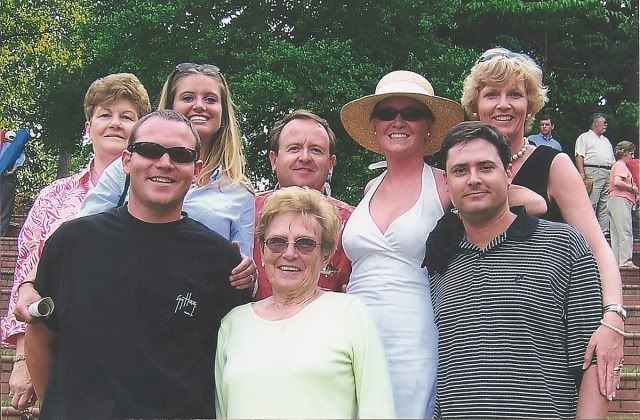 Congrats Meredith College Class of 2011!