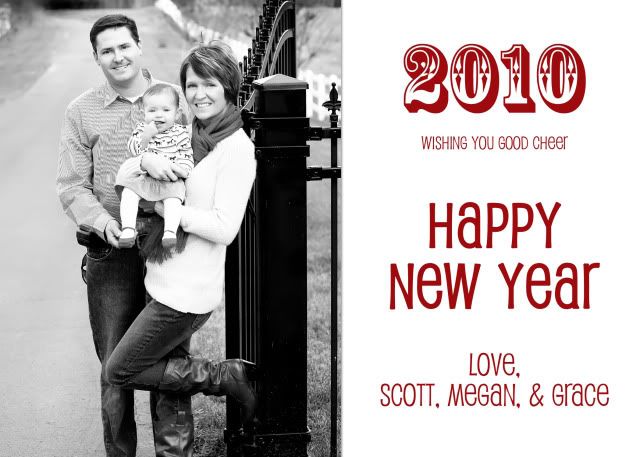 Woah! Where did 2009 go? I was very blessed in the past year. From my photography career to welcoming a baby into the world and I couldn't be more thankful. There's so much I'd like to do in 2010. I thought I'd share a few of my new years resolutions with you. I think if I type them for all to see then maybe, just maybe, I'll stick to them.
1.) I'm actually not a big fan of resolutions but I do have my 101 list that I've been working on. Seems that it was put on the back burner in 2009, so I'm hopeful that in 2010 I will complete lots more! I have completed a few things on this list within the past few months, but just haven't blogged about them yet, promise I'll get to it (see #3).
2.) Be less wasteful. Just today I was cleaning out the refrigerator and there was a perfect example of how wasteful I can be. For goodness sake there's children starving in this world, and I'm having to throw out food that's gone bad. Made my heart hurt. Seriously.
3.) To blog more. There have been so many things that I've wanted to blog about and just haven't gotten around to it yet. I read lot of blogs. From decorating idea blogs to mommy blogs and definitely lots of photographers blogs. The one thing I love is being able to tell how real a person is through their blog. It's extra special when a photographer posts something completely non-related to their photography work- whether it be about their family, something they ate, even their dog- it just makes them more real. I hope to post a lot more this year.
Do you have any new years resolutions? Post one of your new years resolutions to this post and win a fun prize! Now for more fun stuff...
The New Year is here and if you've resolved to put family first, you'll love all the fun family sessions we've got planned for 2010!
Our Family Portrait Month will run for the months of January and February! Make a single moment last forever with a classic family portrait just in time for reunions. Book your session by Feb. 15th and receive 16 complimentary signature wallets. Wallets are a great take home gift that will be cherished long after the family reunion is over!
In celebration of my wonderful clients from the past year, a "Best of 2009" contest will begin within the next two weeks as well. Photos that received the most comments and some of my favorites will be added to the blog for you to vote on. You can check out last years contest here. This year there will be some really great prizes too!
Coming up on another year? Celebrate your little one's birthday with a birthday session 50% off regular priced sessions and 24 birthday keepsake wallets. You bring the cake; we'll bring on the fun! Birthday sessions must be scheduled during your child's birthday month.
Getting engaged? Making a personal and public commitment to spend your lives together is a big deal! Chronicle one of the most romantic and happiest times of life with engagement portraiture you will both love to look back on. Megan Lane Photography will capture the emotion with a sweetheart's couple session.

Saying "I Do!" in 2010? Let me capture the emotion, tradition, and unique personality of your forever day. You've waited your whole life for this day. The tears will dry, and the flowers will fade but your wedding photos will last forever. Trust me to capture the magic, emotion, and tradition of this day with great care. Mark memorable wedding photos off your list by calling Megan Lane Photography at 252-706-0025. You've got enough to try on!

Are you disappointed that you didn't get around to creating custom holiday cards? No worries! You can still send your regards to family and friends with a beautiful, custom New Year's cards or even Happy Valentine's Day cards. Order cards from a previous 2009 session or schedule a new session!
A lot more information will be sent out via email newsletters this year. If you aren't on our mailing list please shoot us an email so you can be the first to receive session specials and other information. The first special coming up VERY soon will be all about you and doing something VERY special for that special one in your life, just in time for Valentines Day!
Call Megan Lane Photography today to book your session.