I've been meaning to share a few photos of my baby girl's first birthday! It was only (almost) two months ago. ;) It seems like just yesterday I was introducing her to all of my blog readers in
this
post over a year ago and on July 8th she'll be 14 months old. In the past two weeks she has talked the ever-so exciting task of walking and is everywhere! Here are some long overdue shots of her 1st Birthday Party!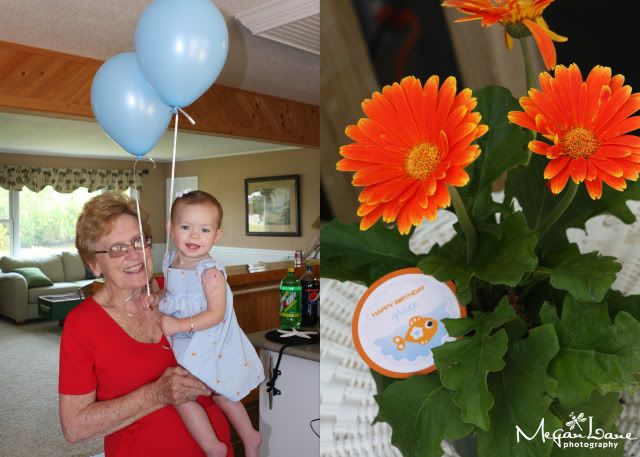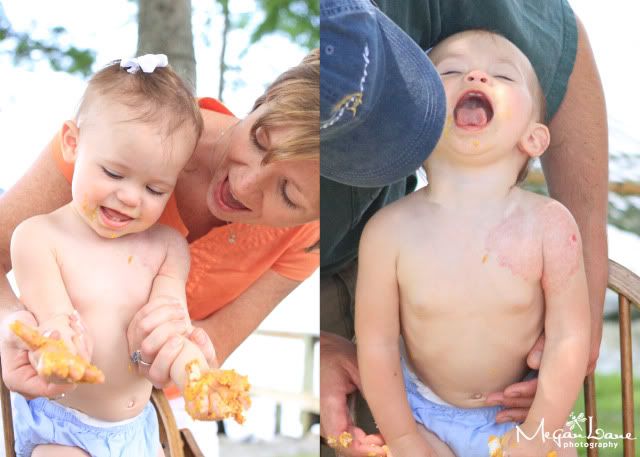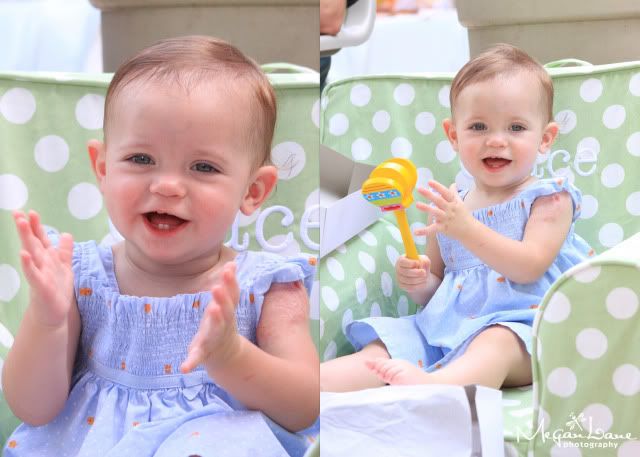 I found an adorable line of clothing at Gymboree with Goldfish on the fabric. As soon as I saw those outfits I knew that was just what I wanted to use as Grace's birthday party theme! I searched the internet for goldfish invites etc, but nothing jumped out at me, so I got busy designing her invites on my own. After lots of searching I found a golfish graphic that I liked and there you have it, her 1st birthday invitations:
As you can see in the pictures above we carried the goldfish theme throughout the party with her cake and the circle flags that were sticking out of her cupcakes and some of the flower pots. Her Thank You Notes were even designed using the same graphic. Although I can take the credit for the invites and the thank you notes I can't take credit for the adorable circle stickers that helped carry out the goldfish theme. That's where the ever-so-talented Kate of Katlem Designs comes in! I stumbled through her site on Etsy last fall and ended up ordering return address labels for myself and some for my Mom as a Christmas present. When it came to help with Grace's party, I knew she was just the person that could help me. I sent her over the graphic that I had already been using and she didn't disappoint. She provided large circles stickers that said "Happy Birthday Grace", smaller circles for the cupcakes that said "Grace is 1", and return address labels for Grace's invites and thank you notes. Let me tell you, Kate is amazing! And not just because she's talented but she's also going to give THREE of my blog readers a set of 60 stickers! In addition to getting stickers from Kate, I'm throwing in a $25 gift certificate to Megan Lane Photography!
Here's what you have to do to enter our giveaway...
*Go to Kate's Etsy Site and check out her beautiful creations!
*Then come back here, to this blog post, and leave a comment with your favorite sticker design! (Comments will be visible after approval.)
It's that easy! Please only enter once. Contest closes Tuesday the 6th at 6pm. Winner will be chosen using Random.org and will be announced here on the blog Wednesday, July 7th! Good Luck!